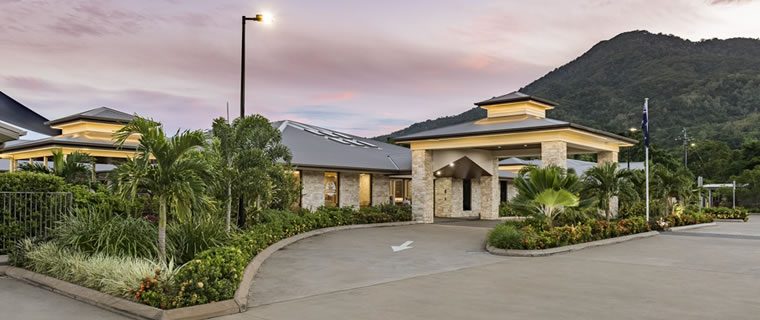 Caravonica Waters Aged Care Facility
Caravonica Waters is a 144-bed aged care facility located in Caravonica, Cairns. Nestled in a tranquil location conveniently located a short drive from the Northern Beaches and Cairns city centre, Caravonica Waters provides a home-like environment designed to exceed the needs of you and your loved ones. Offering a homely experience with all the modern conveniences, Caravonica Waters represents the latest in residential care building design, green efficiency and innovation.
Situated at the base of the Barron Gorge National Park, this facility is ideally positioned to take in striking views of the stunning Macalister Ranges and surrounding tropical landscape.
Infinite Care have a long history of quality care, and offer a personalised level of service where you can be assured that your needs matter to us – it is about you. Our care and service offers quality, leading clinical outcomes and a homely environment where people matter!
Homely Accommodation and Living Spaces
Caravonica Waters offers a comfortable homely environment for residents with brand new single and companion bedrooms featuring designer inspired soft furnishings and a modern colour scheme. Great care has been taken to ensure that each room feels warm and comfortable and meets all the requirements of a modern aged care facility within a friendly, relaxed and homely atmosphere.
The facility comprises of spacious lounge rooms with private access to courtyard areas with vistas and views of the Macalister Ranges.
Families and residents can also take advantage of our onsite barista and café and a secure children's playground area designed to ensure quality time with your loved ones.
Short Stay Options
Caravonica Waters also provide palliative care and respite options for shorter stay requirements.
Extensive Social and Lifestyle Options
The home features a library and activities area where an extensive schedule of activities and trips are coordinated by our Lifestyle team every day. With a full range of exercise classes, music, singing, concerts, cultural days and happy hour, our Lifestyle team work hard to ensure our residents' days are pleasurable. If there is something that interests you that isn't in the program the Lifestyle team will do their best to create it for you –  we're all about you and making sure your needs are met in your home.
Picturesque and Manicured Grounds
The grounds at Caravonica Waters are picturesque and offer beautifully manicured and landscaped areas that even the most ardent gardener would envy. This provides a tranquil background in which to spend your time, or time with loved ones when they visit.
Technology Options
WiFi is enabled throughout the facility to ensure we continue to innovate and meet your relaxation and communication needs. We offer a range of technology additional services and options to suit all levels of technology and communication requirements.
All resident rooms, suites and lounges have the latest in large-scale, High Definition flat panel smart Televisions wired into a state of the art NBN enhanced network.
Full Linen Service
We have a dedicated housekeeping team to take care of all your linen and personal clothing requirements. With this on-site service you can be assured that all your laundry needs are taken care of.
Fresh Meals Prepared On-site
Our cooking team freshly prepare all meals on site and work to ensure that specific dietary requirements are considered (in consultation with a dietitian). The meals and seasonal menus are crafted on good home style cooking, by a qualified chef, to cater for your tastes and needs.
Quality Clinical Care
Our hard-working team of nursing and care staff are committed to providing a high level of clinical care to all residents. They are supported by an extensive team of Allied Health professionals that can meet the needs of a full range of care requirements. All our team understand that this is your home and work hard to make the environment as friendly, relaxed and happy for you as possible.
Make Caravonica Waters Your New Home
Deciding on the right residential care service can be a stressful decision for all in the family. We help take that stress away. Please call our Admissions team today for a personalised tour so you can come and see the Infinite difference for yourself.
Caravonica Waters has options to suit most residential needs. We'd love you to come and make this your new home!
To view Caravonica Waters please call 1800 INF IN8 (1800 463 468) or email  nqadmissions@infin8care.com.au.
GET THE LATEST FROM INFINITE CARE
Sign up for our newsletter